Greater Ohio Area SuperKids Classic, Inc. conducts a Soap Box Derby style race for children with disabilities, ages 7 to 18, in Northeast Ohio including Cuyahoga, Medina, Portage, Stark, Summit and Wayne Counties, and any county without an official SuperKids race.
ANOTHER SUCCESSFUL RACE DAY!
Thanks to everyone who joined us for our 2019 race on Saturday, June 1st!  From those who walked, rode and skated in our opening parade, to our racers, co-pilots and volunteers who made the day fun, we could not have asked for a better day!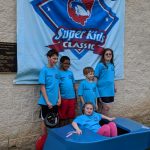 CONGRATULATIONS TO OUR 2019 WINNERS!
Congratulations to our top five winners, pictured here standing: Michael (1st), Isaiah (2nd), Jayden (3rd), Alayna (5th), and seated: Sara (4th).  Our top winners will advance to the National Super Kids race at Derby Downs on July 19th!