Greater Ohio Area SuperKids Classic, Inc. conducts a Soap Box Derby style race for children with disabilities, ages 7 to 18, in Northeast Ohio including Cuyahoga, Medina, Portage, Stark, Summit and Wayne Counties, and any county without an official SuperKids race.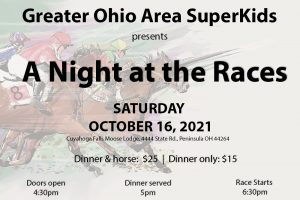 Join us at our annual Night at the Races fundraiser where all funds benefit Greater Ohio Area SuperKids. Ticket price includes dinner and horse race. Purchase tickets by Oct. 8th.  Download ticket form
2021 Race
Thank you for all who participated in or volunteered at the 2021 Race. The event was a huge success and resulted in countless smiles and cheers!
Volunteer with SuperKids
Want to volunteer with SuperKids? There are many volunteer opportunities on practice day, race day and throughout the year. Volunteer registration forms are due May 1, 2021.
Download volunteer form
Your Amazon purchases can support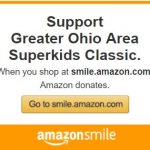 Did you know your Amazon.com purchases can help support Greater Ohio Area SuperKids Classic?  With the Amazon Smile program, Amazon donates 0.5% of the price of your eligible
AmazonSmile purchases to the charitable organization of your choice!  If you shop Amazon regularly, select Greater Ohio Area SuperKids Classic for your charitable organization, or bookmark this link so your purchases immediately begin benefiting your favorite charitable organization!
2021 Sponsors
Join us as a sponsor for our 2021 Race and Programming! Click here to learn more about sponsorship.
When Nic placed 4th he said with a huge smile, "All I wanted was to place and I really hoped I would!" He smiled the rest of the day!
The first time Sydney went down the hill it was hard to get her into the car. But, thankfully she had a Soapbox derby co-pilot named Travis.   With love and care he got her into the car.  He made her feel comfortable and made sure that she was safe as they traveled down the hill. Now Sydney can't wait to "race cars fast" as she says and Travis has been her co-pilot ever since that first ride!
I will never forget the first time that I went down the hill!
Troy doesn't have many words, but a few that are priceless are "Fun Ride Race Car". He was so excited from the first practice run until I tucked him into bed that night. As I tucked him in, I could hear him saying "Fun Ride Race Car".