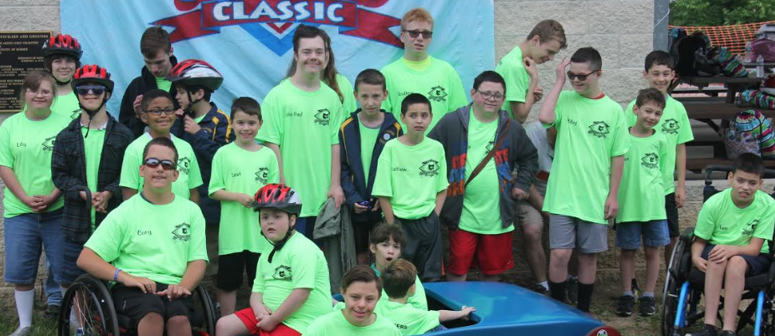 The Greater Ohio Area SuperKids Classic, Inc. race is a soap box derby style race for children with disabilities.
2021 RACER REGISTRATION IS NOW OPEN – DEADLINE: APRIL 1st
General Race Information:
Download the 2021 racer registration forms.
Race day and practice day are held at Derby Downs. 789 Derby Downs Drive. Get directions.
For questions, please contact registration chairperson, Jenn Sakeagak.
Racer Eligibility:
Must be between the ages of 7 and 18 on race day
Must have a disability that would prevent them from participating in the All-American Soap Box Derby
Must be cooperative when being loaded into the car and able to fit safely and comfortably with the co-pilot
Must not weigh more than 185 lbs.
2021 Important Dates
April 1
Co-pilot application deadline
May 17

Race Practice Day

5:00 – 8:00pm

June 5

Race Day

9:00 – race finish

June 6

Family and Volunteer Picnic

2:00 – 4:00

June 16

Banquet

6:00 – 8:00
Volunteering:
Learn more about being a race co-pilot.
Contact us for more information on volunteering for Practice Day, Race Day and other events throughout the year.