Melony Heyn Award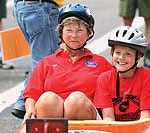 The Melony Heyn Award is a special recognition that honors the memory of a former board member who dedicated countless hours and years of service to Greater Ohio Area SuperKids. Melony Heyn served on the board of our organization for many years and was known for her passion and dedication to our special racers.
Melony was also a member and past National President of Delta Theta Tau Sorority and a board member for the National Super Kids Classic. Her love for the event was infectious and she played a significant role in introducing many volunteers, racers, and families to this amazing event.
Melony's connections with our sponsors and donors were invaluable, and her work has helped to secure long-term partnerships with many of our supporters. Her love for our special racers was evident in the way she interacted with them, and her signature greeting of "Hey Kiddo" is still remembered fondly by many.
The Melony Heyn Award was established in 2018 to recognize volunteers who have gone above and beyond in their dedication and service to Greater Ohio Area SuperKids. It is a way to honor Melony's legacy and her contribution to our organization. This award is given to volunteers who have shown exceptional commitment, passion, and dedication to our special racers, just as Melony did throughout her years of service.
2022
---

Kingdom Knights
2021
---

Rich Robinson
Rich has repeatedly gone above and beyond on behalf of SuperKids. Rich tirelessly maintains our SuperKids race cars to make sure they are safe for each racer. He has been instrumental in finding new race sponsors to assist in the financial success of the organization. You will see Rich at the runout at the end of the track each year on race day where he greets each racer with a smile and ensures that they safely exit the car for the return trip to the top of the hill. Rich hosts the family and volunteer picnic day at the Akron Motorcycle Club.
2018
---

Cindee Case
In 2018, the first Melony Heyn Lifetime Service Award was presented to Cindee Case.  Cindee served on the GOASKCI board for 10 years in multiple roles –Vice President, volunteer coordinator, bylaws coordinator, publicity manager, parade manager, all the while living nearly an hour away and traveling extensively for work.  Two years after rotating off the Board of Directors, she continued manage publicity, and parade events, and still manages the organizations Facebook page – setting up posts throughout the year to continue recognizing sponsors and sharing updates on race events.